Happy to announce that now dombetting has Telegram channels operated by bots.

There is 1 free public DEMO channel. Channel has limited content and sometimes marketing text are displayed, but you can test this tool for FREE
JOIN FREE TELEGRAM CHANNEL NOW ! https://t.me/dombettingbot1
If you are already in love in dombetting bot, ther are 5 more additional channels for subscribers. No adds, no other content, pure notifications!
Want to join ? Buy sub, enter your telegram username in checkout page and you will receive an invitation email.
If you are already a subscriber who decided to join dombetting telegram channels, just send an email to dombetting@gmail.com with your dombetting login and telegram username.

Telegram channels list:
1. All sports, all markets, min 30% drops
Filters details:
– Sports: ALL (soccer, esport, basket, tennis, … and more)
– Markets: ALL (moneyline, asian handicaps, over/under)
– Drop value > 30%
– Drop odds range: 1.2 — 3
– Time interval filter: 10 minutes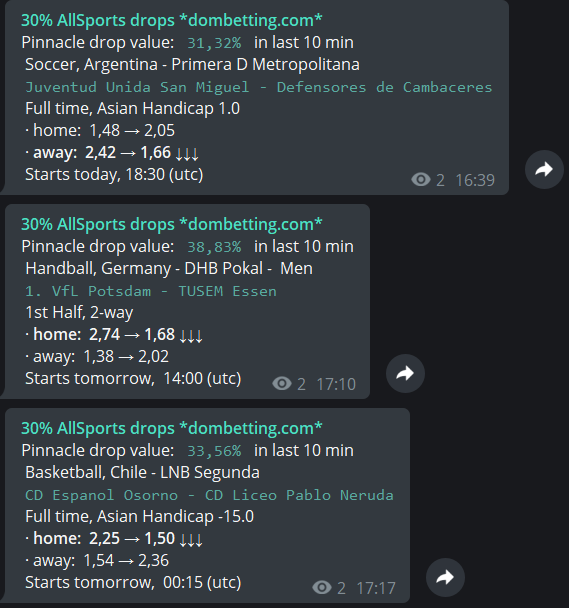 2. All sports, all markets, min 20% drops
Filters details:
– Sports: ALL (soccer, esport, basket, tennis, …)
– Markets: ALL (moneyline, asian handicaps, over/unders)
– Drop value > 20%
– Drop odds range: 1.2 — 3
– Time interval filter: 5 minutes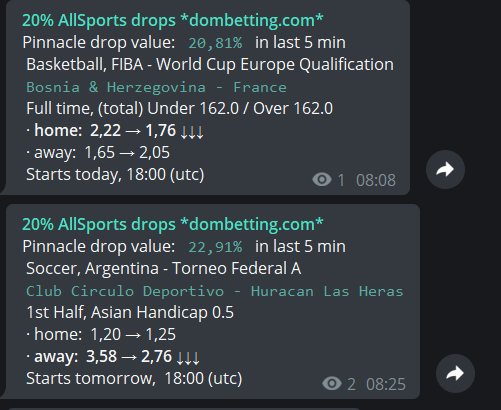 3. Soccer only, 20% drops
Filters details:
– Sports: Soccer only
– Markets: ALL (moneyline, asian handicaps, over/unders)
– Drop value > 20%
– Drop odds range: 1.2 — 3
– Time interval filter: 5 minutes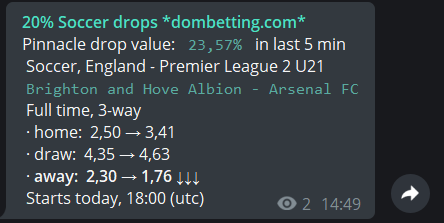 4. E-sports only, 20% drops
Filters details:
– Sports: E-sports only
– Markets: ALL (moneyline, asian handicaps, over/unders)
– Drop value > 20%
– Drop odds range: 1.2 — 3
– Time interval filter: 5 minutes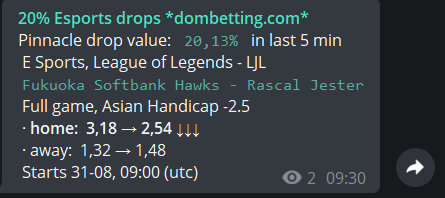 5. Tennis only, 20% drops
Filters details:
– Sports: Tennis only
– Markets: ALL (moneyline, asian handicaps, over/unders)
– Drop value > 20%
– Drop odds range: 1.2 — 3
– Time interval filter: 5 minutes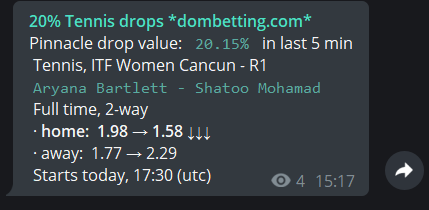 Post navigation
Recent Posts
Terms and Privacy
Twitter

Theme FrannaWP by Pitshou Kalombo | Powered by WordPress