1. Surebets
Surebets (sports arbitrage betting) occur when different bookmakers have different odds for the same game. It creates an oportunity for you to win without any risk, your bet is secured no matter the outcome.  Dombetting is a great tool for sure betting.  
How to use Domebtting for surebets?
Each time a big drop is alerted by dombetting there is great chance that it created a surebet opportunity on the market. All you have to do now is to go to any odds portal (like oddsportal.com), find a match and check the odds offered by soft bookes. You will easily find overestimated odds. Then you can use 'Surebet calculator' to estimate the stakes and you are ready to play surebet.
This may sound complicated, but after you practive you will be very fast and efficient to play surebets.
Go to Examples section to check few examples of surebets created after odds movements alerted by dombetting.
Of course there are more advanced tools that support surebetting, but look at the pricing – it costs fortune ! 
Few hints:
when placing a surebet you should always bet on softbookie side first, as there is less time for it (before odds are corrected by bookie). Then you place a opposite bet on Pinnacle's 

 for odds comparision You can use any odds portal but my recommendation is

oddsportal.com.

After free registration You have full access to see all odds published by bookmakers

 it's also a good idea to be logged in to your bet accounts to save time
2. Value bets
How does it work ? Lets assume there was a 15% drop for a game at Pinnacle's in a short time interval. What does it mean ? It means that there is something going on here. Something you should learn about it and of course bet on it. You don't need to understand the reason, if it's a key-player  injury, or maybe game is fixed? You don't need to know the team or leage or  even the sport. All that matters is that someone knew something and put big money on it. Which started a drop at Pinnacle's…
Within few minutes all soft bookies will correct their odds. But you are faster, because you have dometting, that gives you instant notifications, right after the drop, way faster than soft bookies corrections. All you need now is to find a bookmaker, who hasn't dropped their odds yet and bet (knowing this is good deal, because  odds are overestimated and will be corrected soon). You usually have several minutes to do it, it's a plenty of time but you need to hurry up.  If you don't make it on time, it's okay, forget about it and wait for another alert from dombetting.
Selecting bets
The real measure of the value bet is the difference between pinnacle closing odd and the odd you bet on.
Example: if you bet for Home team win with 2.2 odd, and the pinnacle closing odd value is 1.6, you have made an excellent deal, no matter the result. Playing like this you will achieve long-term profit.
Dombetting, especially during the weekends, when a lot of matches are played, will provide you many odd-drops alerts, but not every odd drop is worth betting. My private criteria are pretty restrictive. I prefer to play small amount of bets with better chances of success and what matters to me  the most is:
when the match begins – the perfect situation is to catch a drop and bet when the match is just about to start. In this case you are sure that the odd trend will not change into opposite direction and You won't be on the "wrong side". So if the match is gonna be played within few hours, monitor the odd and take actions if it's loosing its value.
always compare your selection with closing odd of Pinnacle. If the difference is not satisfactory, you should back away by playing opposite bet on other bookmaker. Even if it costs you some loss.
the drop value – it needs to be at least 12% to consider playing (but this is my subjective minimum drop limit). The bigger, the better (less risky)
odd value – I almost never bet with odd lower than 1.5 and bigger than 2.5
double checking if the drop is not a pulp error (sometimes Pinnalce simply makes a mistake by publishing a wrong odd value). This is especially the case for very big drops ( bigger than 30%)
Strategy of playing
This is really important to keep records of your bets and analyze. This is the only way to learn, draws conclusions, eliminate mistakes and develop the system. The criteria above are the result of such analysis. I took me 3 months before I finally started to earn money on value-betting.
What else? You should play a flat stake on every bet, let's say 50$. Be aware that some bookmakers may limit your stakes if it's to high, especially when you keep winning. It's very important to be consistent and bet the same amount of money on every bet. I do not recommend playing big flat stake at the beginnig though. Start with a low stake, keep your betting records, analyze and raise your stake after you gain a stable yield.
You need to remember that this is a long-term strategy and You should not expect win on every bet. However, if You choose your bets carefully, you should be able to catch 5-20 drops each weekend and this should bring you a decent ROI.
Soft bookies
You don't really need to have multiple accounts. If you observe the market you will notice that there are always the same bookmakers that are slow with catching up the current odds trend. Examples:
bet365
stan james
expect
bwin
william hill
…. and many many others
For beginning it's enough to have only one soft booke account. If you are on a winning path, open more account to increate your chances of finding the value you can bet on.
Example
Below I give you an example of basketball match (France » Pro B : Evreux – Chalons-Reims). As you can see Pinnacle dropped the odd for home team when the match was just about to start (because somebody put big money on Evreux win). The rest of bookmaers haven't managed to drop the odd giving you an excelent opportunity to bet a nice Value-bet (2.46)
Check more examples on next page [click here]
3. Dombetting as a tipser
Sometimes it's forth to set filter's in dombetting settings to compare openning odds vs current ones (Max time interval, max drop age). We may see odds trend like this: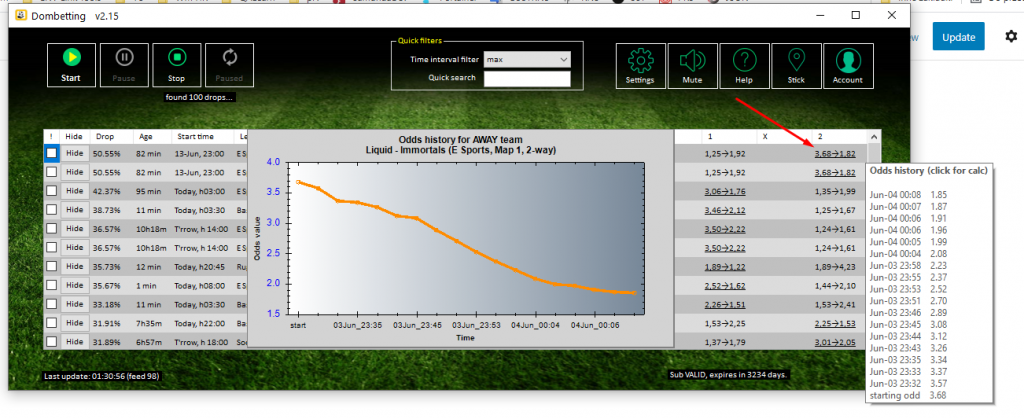 What do we see here ? Lot of people must have put a lot of money on Away team, despite opening odds suggested that Home team is a favorite.  But the trend was reversed and now Away team is a favorite. How do you think – how much money have to be put to change the odds so drastically? And why they've put so much money on it? Obviously there is somehting going on, but we don't care! We just follow the verdict and bet!
Here we don't care about finding a value. Drop is calucalted over a long period of time and probably all bookies (even softs) already corrected their odds. So simply find a bookie that offers the best odds for given outcome  (Pinny is a good choice for most cases) and bet.
Here's my results when I tried this system for the first time: 

Yes, probably it was the beginner's luck and of course it won't by always 10/10 wins, but I am more than sure that this technique will bring you a very nice ROI.