Dombetting offers multiple channels on Telegram, where bot publishes messages about pre-match drops.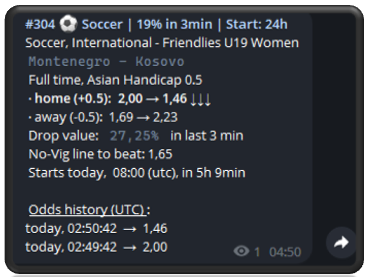 Available on any platform! Perfect choice If you don't want to install new software and just use your telegram app to get alerts sent by dombetting bots in private channels.
Channels are already configured with predefined filters. The difference is in : selected sport disciplines, minimum drop value, game start time, time interval from which the drop value is calculated from. Just join the chosen channel and wait for messages from bot. Easy solution, especially for newbies.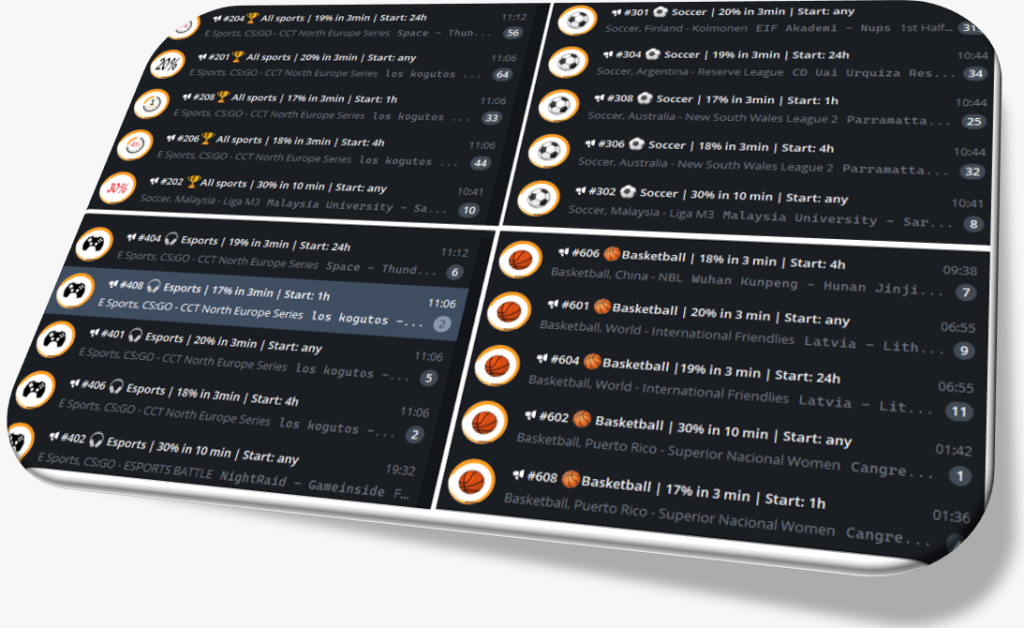 All VIP telegram channels are listed below.
JOIN FREE TELEGRAM CHANNELS ! 
There is also 1 free DEMO channel open for everyone, where you can test dombetting tool for FREE. >> Click HERE to join <<
Remark: demo channel is a copy of #204 VIP channel, however it has limited content meaning not all messages all copied and some game info may be hidden.
There is also a telegram discussion group, available for subscribers only (current or past):
>> Click here to request access <<
WANT MORE? SUBSCRIBE AND BECOME VIP! 
VIP channel means no adds, no marketing, no hidden game info.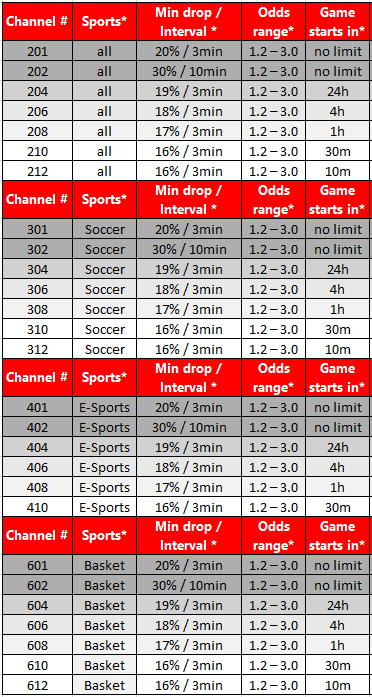 _________________________________________________________________________________
Sport – sport disciplines. "all" markets means: soccer + basket + esports + tennis + 2 other seasonal sports
Min drop – value of minimum odds drop (in %)
Interval – time range to calculate drop value from
Game starts in – max time left before game starts

YOUR PRIVATE CHANNEL
If none of above configurations suits you, you can request your custom configuration in private channel.
Filters setup:
– Sports: you decide [soccer, basket, tennis, e-sports, hockey]
– Market types: you decide [1×2, under/over, Asian handicaps]
– Additional filters: you decide [for example: exclude Major League Soccer, Woman, U21, U19, 1st half, Corners, …]
– Minimum drop value: you decide [in example >20%]
– Odds range: you decide [in example 1.2 – 3.0]
– Game start time: you decide [in example max 1h]
– Time interval to calculate drop value: you decide [in example 15minutes]

Remarks:
– Before payment, once you choose the config, send it to dombetting admin to verify if it can be done
– you can ask for other customization (for example start time info in you local timezone)
– Check initial price for private channel here. Note that this price can change after work effort analysis by developer
– You can't configure the channel yourself, it will be done by dombetting admin, usually within 24h
– You can request your config update 1 time in a month for free

More info : dombetting@gmail.com or direct telegram contact @dombetting