Drops detected by dombetting are published by bots on special telegram channels. Example message looks like this: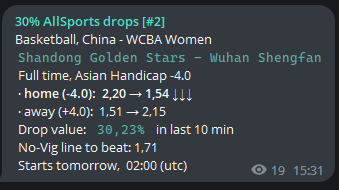 JOIN FREE TELEGRAM CHANNEL NOW!
There is 1 free DEMO channel publishing real drops, open for everyone, where you can test this tool for FREE.
-> https://t.me/dombettingbot1 (to join use this link)
Channel has limited content though (meaning there may be some breaks in broadcast or some drops may be hidden), but for sure it will allow you to see the power of the tool and make some valuable bets.
There is also a telegram discussion group, available for subscribers only (recent or past):
->[click to request access tp dombetting Forum group]
WANT MORE? SUBSCRIBE!
If you are already in love in dombetting bots, there are more channels (see list below) with different filters setup, available for subscribers only. No adds, no other content, pure notifications!
Want to join ? Buy sub, enter your telegram username in checkout page and you will receive an invitation email.
If you are already a subscriber who decided to join dombetting telegram channels, just send an email to dombetting@gmail.com with your dombetting login and telegram @username.


Telegram channels list: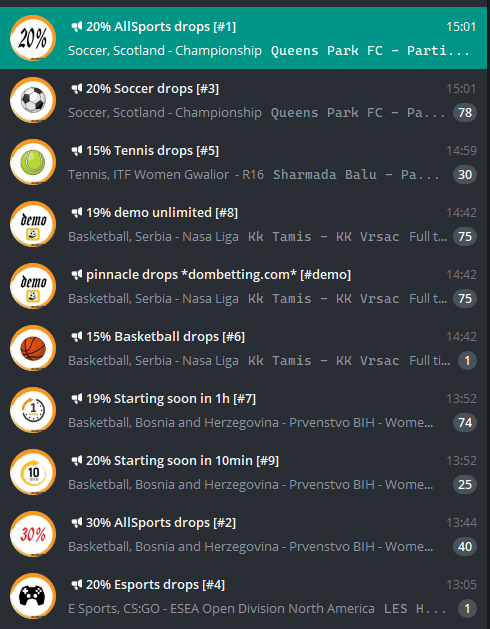 Channel
Sports
Markets
Min drop
Time interval
for drop calc
Odds
range
Game
starts in
Average
drops in
1 week
#1
all
all
20%
5 min
1.2 – 3.0
–
552
#2
all
all
30%
10 min
1.2 – 3.0
–
156
#3
Soccer
all
20%
5 min
1.2 – 3.0
–
284
#4
Esports
all
20%
5 min
1.2 – 3.0
–
70
#5
Tennis
all
15%
15 min
1.2 – 3.0
–
95
#6
Basket
all
15%
15 min
1.2 – 3.0
–
388
#7
all
all
19%
15 min
1.2 – 3.0
60min
332
#8
Soccer
Basket,
Esports
all
19%
3 min
1.4 – 2.0
24h
304
#9
all
all
20%
10 min
1.3 – 2.1
10min
63
Channels configuration



1. All sports, all markets, min 20% drops
Filters details:
– Sports: ALL (soccer, esport, basket, tennis, …)
– Markets: ALL (moneyline, asian handicaps, over/under)
– Drop value > 20%
– Drop odds range: 1.2 — 3
– Start time: any
– Time interval filter: 5 minutes
2. All sports, all markets, min 30% drops
Filters details:
– Sports: ALL (soccer, esport, basket, tennis, … and more)
– Markets: ALL (moneyline, asian handicaps, over/under)
– Drop value > 30%
– Drop odds range: 1.2 — 3
– Start time: any
– Time interval filter: 10 minutes
3. Soccer only, 20% drops
Filters details:
– Sports: Soccer only
– Markets: ALL (moneyline, asian handicaps, over/under)
– Drop value > 20%
– Drop odds range: 1.2 — 3
– Start time: any
– Time interval filter: 5 minutes

4. E-sports only, 20% drops
Filters details:
– Sports: E-sports only
– Markets: ALL (moneyline, asian handicaps, over/under)
– Drop value > 20%
– Drop odds range: 1.2 — 3
– Start time: any
– Time interval filter: 5 minutes

5. Tennis only, 15% drops
Filters details:
– Sports: Tennis only
– Markets: ALL (moneyline, asian handicaps, over/under)
– Drop value > 15%
– Drop odds range: 1.2 — 3
– Start time: any
– Time interval filter: 15 minutes

6. Basketball only, 20% drops
Filters details:
– Sports: Basketball only
– Markets: ALL (moneyline, asian handicaps, over/under)
– Drop value > 15%
– Drop odds range: 1.2 — 3
– Start time: any
– Time interval filter: 15 minutes

7. All sports, game starts in 1h, 19% drops
Filters details:
– Sports: ALL (soccer, basket, esports…)
– Markets: ALL (moneyline, asian handicaps, over/under)
– Drop value > 19%
– Drop odds range: 1.2 — 3
– START TIME: in 60 minutes
– Time interval filter: 15 minutes

8. Soccer, Basketball, E-sports, min 19% drops
Filters details:
– Sports: Soccer, Basketball, Esports
– Markets: ALL (moneyline, asian handicaps, over/under)
– Drop value > 19%
– Drop odds range: 1.4 — 2.00
– Start time: next 24h
– Time interval filter: 3 minutes
(*Some pick from this channel are also broadcasted on open DEMO channel)
9. All sports, game starts in 10min, min 20% drops
Filters details:
– Sports: ALL (soccer, basket, e-sports…)
– Markets: ALL (moneyline, asian handicaps, over/under)
– Drop value > 20%
– Drop odds range: 1.3 — 2.1
– START TIME: in 10 minutes
– Time interval filter: 10 minutes


10. YOUR PRIVATE CHANNEL
Check price: https://dombetting.com/product/prv-channel
Filters setup:
– Sports: you decide [soccer, basket, tennis, e-sports, hockey]
– Market types: you decide [moneyline, under/over, handicaps, 1st half, corners, etc … ]
– Drop value > you decide [in example >20%]
– Drop odds range: you decide [in example 1.2 – 3.0]
– Game start time: you decide [in example max 1h]
– Time interval to calculate drop value: you decide [in example 15minutes]
* Before payment, once you choose the config, send it to dombetting admin to verify if it can be done
** You can't configure the channel yourself, it will be done by dombetting admin
*** You are allowed to change the config 3 times / month

More info : dombetting@gmail.com or direct telegram contact @dombetting